Posted on Oct 18, 2022

Flexibility makes life easier. Switching a torch to a different machine. Adjusting a torch for a different application or angle. Extending your cable. Getting your torch exactly how you want it.
We know a major pain point for our customers is change – changing up your set up to meet the requirements of a new job, changing your machine, changing your cable length. It's time consuming; requiring complicated tools, cutting and recrimping of hoses, soldering switches or a whole range of different torches.
You end up not bothering because it's too much hassle, adapting what you've got even if it isn't the best option for the job. After all, time equals money, and if you have to spend your time changing components of your torch then that's time you aren't welding. Or you end up having multiple torches with different set-ups, which of course can easily become costly if you do many different jobs!
So, let's change that…
We've developed the Suregrip One Tig Series to make changing your welding set-up quick and simple.
Our Suregrip One Series is designed with flexibility in mind. Switch to a different machine easily with our Rapid Fit Connection System and Rapid Switch Plugs.
Extend your cable quickly and easily with our Extension Cable Assemblies
Want to know more? Read on!
---
Rapid Fit Connection System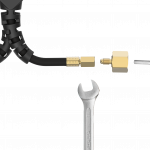 Make easy work of changing gas or liquid hoses– switching to a different machine couldn't be simpler! All terminations interchange on a common hose connector so you don't need any special tools; a spanner and an Allen key are enough. Plus, you don't need to cut and recrimp terminations.
---
Rapid Switch Plugs
No need to solder a new switch plug to use your torch with a different machine, simply switch over with our easy rapid fit switch plugs. No more messing about – just plug in and away you go in seconds. It's literally that simple.

---
Extension Cable Assemblies
Being tied to your welding machine is no fun. Are you fed up with lugging your machine around to get to hard-to-reach areas? Then don't! Extend your Tig torch with the Parker Extension Cables.

When you think of extending a cable, you probably think of effort – cutting and crimping. It's not worth it.
That's where our welding extension cables come into play. All you have to do is plug them in to achieve a safe, secure connection, available in 8m and 16m lengths allowing you to extend your torch up to 32m.
---
Modular Torch Series- SGT A150 / SGT A200 / SGT W2225 FLEX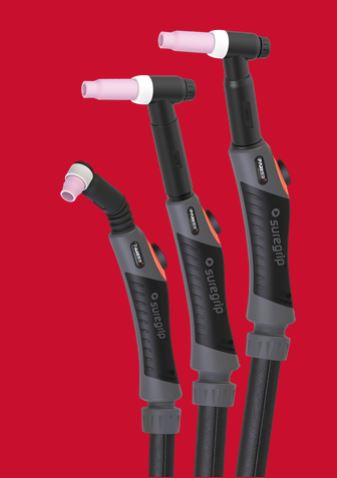 The ideal torch varies between job and welder preference – there is definitely no one size fits all approach.
The A150 / 200 and SGT W225 torches allow customization of a single torch to multiple configurations – ideal for welding various angles and applications.
Instead of needing a different torch, you can just switch the torch head instead. Interchangeable torch heads easily configure up to 3 torch styles with optional heads for multiple welding angles.
---
Modular Heads / Modular Kits
Keep multiple set ups for multiple jobs using the modular assembly kits
The modular design minimizes costs and parts inventory. Plus, it's a more sustainable option as one torch does the work of many, and if your requirements alter you can just change the torch head rather than having to buy a brand-new torch.
With so many options available, it's never been easier to customize your welding set-up to meet your job's requirements. Reduce your downtime and improve productivity with Parkertorchology today.
To learn more about our Suregrip One Tig torch options visit www.parkertorchology.com or get in touch with your nearest distributor.